Description
BETAFPV Micro receiver is based on the ExpressLRS project, an open-source RC link for RC applications. ExpressLRS aims to achieve the best possible link performance in both speeds, latency, and range. This makes ExpressLRS one of the fastest RC links available while still offering long-range performance.
ExpressLRS PWM Receivers
ExpressLRS now supports direct PWM output from receivers that have been specifically designed for this mode. BETAFPV ELRS Micro receiver features PWM output for the application of fixed-wing, helicopters, RC cars, boats and etc, and supports failsafe function, which can protect RC models from being out of control. Besides, the plug-and-play design makes it very easy and friendly to use.
Note: To work with PWM receiver, please make sure the TX and RX firmware is ELRS V2.0.0.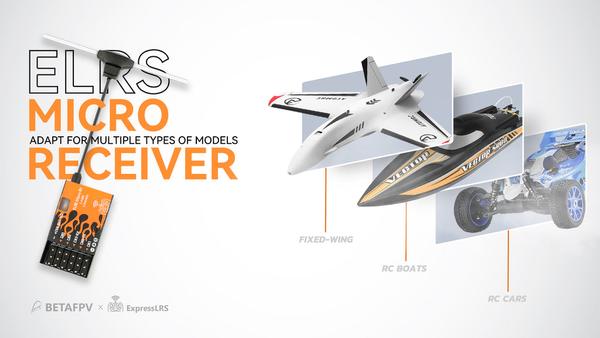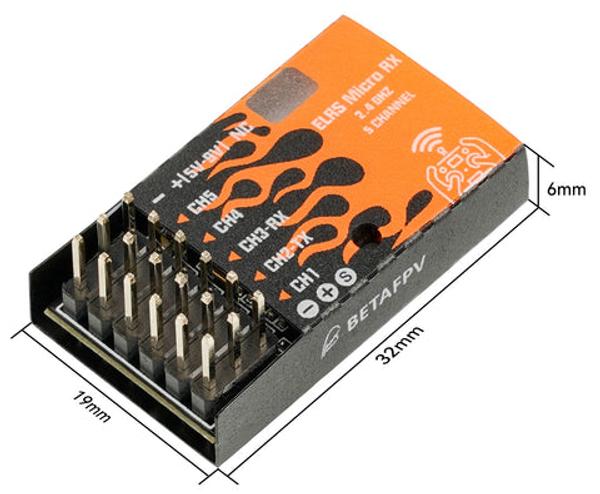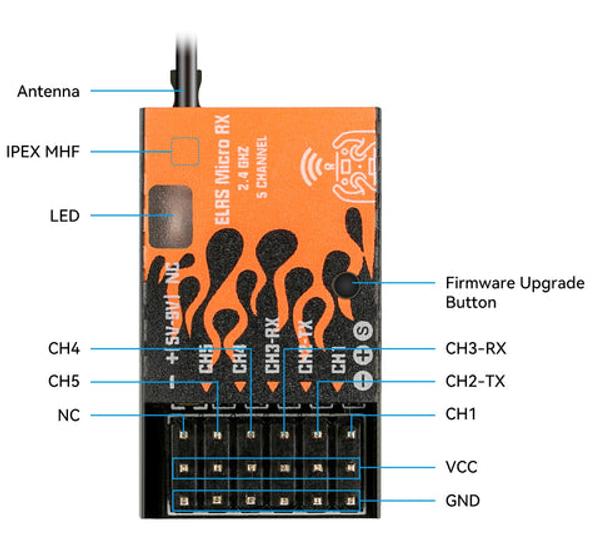 Note: The firmware version of the micro receiver manufactured by our company is ELRS 2.0.0. ELRS Innovative team has officially released version 2.0.0, which is not compatible with the 1.x version. Significantly, the TX module and receiver have to be in the same ELRS version, otherwise, the frequency cannot match successfully.
Note: The Micro receiver also supports flash CRSF output firmware, in this case CH2 corresponds to TX and CH3 corresponds to RX.
Parameters
| | |
| --- | --- |
| Dimensions (Length * Width * Height) | 19x32x9 mm |
| Radio frequency | 2.4 GHz |
| Weight | 4.5 g |
| Antenna | IPEX MHF + T antenna |
| PWM channel | 5 channels |
| Serial output protocol | PWM or CRSF |
| MCU | ESP8285/SX1280/SX1281 |
| Telemetry power | 12.5dbm/17mW |
| Input voltage | 5V~9V DC @ "+" pad |
| Default firmware version | ExpressLRS v2.0 |
Reviews
There are no reviews for this product.